The manufacturing process of a fiber composite component is to be monitored and evaluated with sensor and camera units. For this purpose, a base fabric is to be reinforced with the Tailored Fiber Placement (TFP) process at structurally highly stressed areas in accordance with the load path and simultaneously equipped with sewn-in sensor units.
The fabric prepared in this way is then to be brought into the desired 3-dimensional component shape by means of a draping process. During this process, it is to be monitored whether the individual fiber bundles behave as in the previously calculated draping simulation or whether deviations occur and intervention in the process is required. If intervention in the forming process is necessary, this is to be determined and executed by means of artificial intelligence.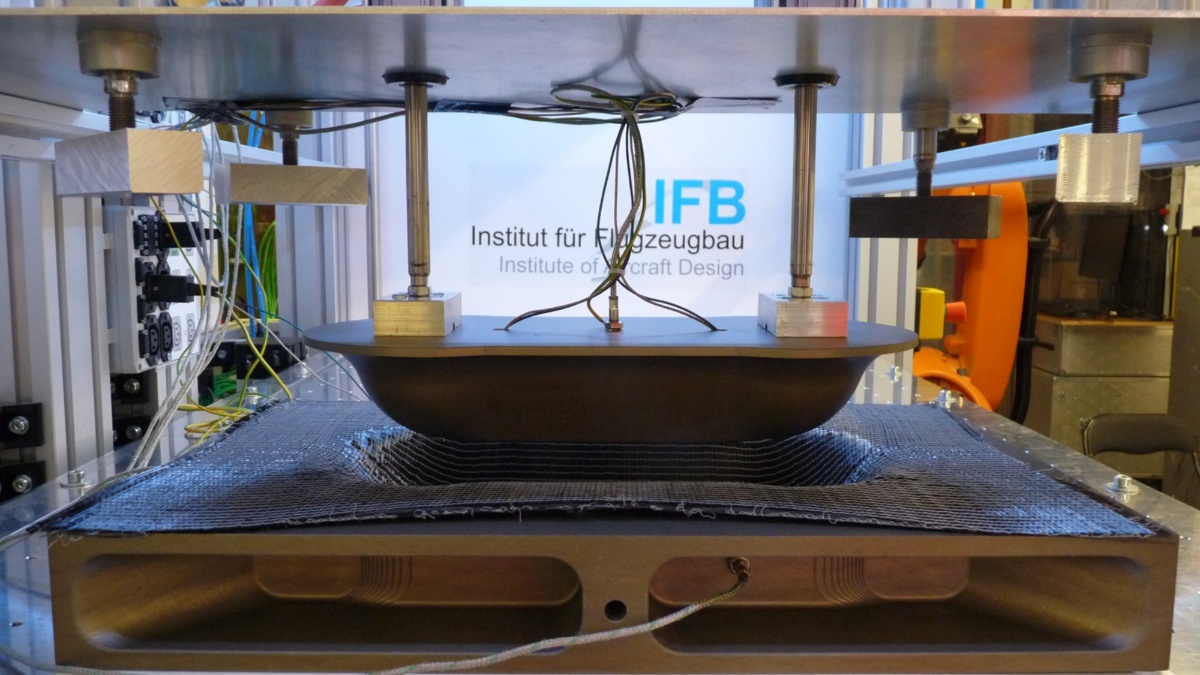 Additional information and funding projects
Initial situation/objective
Intelligent data collection, processing and transfer across the entire value chain - from the idea, through design, production and in-service to end-of-life - for the intelligent component and the transformative, autonomous factory of the day after tomorrow. To be able to realize this project, a continuous data flow is necessary at every point in time and process step. Context-related semantics are required so that the various types of data can be correctly assigned at all times. Different disciplines exchange data and must always know where the data from the previous steps are located and what they mean exactly.

The basis for this is the digital fingerprint of each component, in which all data from the initial concept, design, calculation, process data, machine data, logistics data, through to in-service data from integrated sensors are stored and intelligently linked. The main objective of the Digital Fingerprint is therefore to further develop a component into an Industrie 4.0 component and to create the necessary basis for the intelligent value chain of a component for the future.

The digital fingerprint can thus also be understood as a basis for Industrie 4.0 applications and accordingly as a link between all ARENA2036 collaborative projects.
Contact
Related link